Description
Metal picking trolley
Streamlining of warehouse operations, easy controllability, high load capacity and safety for the operator – these are the most important features of the metal order picker we have designed. This makes it an ideal tool for work. Efficient logistics in the warehouse is the key to ensuring continuity and speed throughout the supply chain, so choose a metal picking trolley and ensure that your warehouse workers work optimally.
Metal picking trolley – product description
The order picking trolley we offer provides increased productivity in t he warehouse.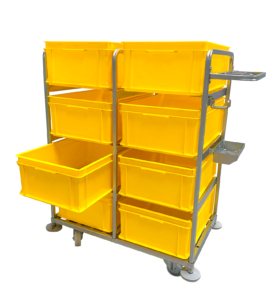 Basic parameters of the product:
dimensions 1109x624x1150,
total load capacity 150 kg,
8 shelves – capacity of each is 18.5 kg,
dimensions of shelves: 411x545x258, 411x545x263, 411x545x263 and 411x545x189 mm.
Our trolleys are equipped with 4 swivelling wheels with a diameter of 100 mm, a hanger and 2 bins that can be used to store small items such as barcode scanners, labels, film, etc. The bumper rollers protect both the goods and the trolley from damage. Galvanisation ensures long-lasting corrosion protection.